Criminals intrigue us, and maybe it is because probably deep down inside we are all just one act away from being Criminals ourselves, since we all have a dark side that is always fantasizing about all sorts of illegal, immoral, unethical and wicked acts in this life. And we all have to fight hard with our minds and emotions daily to keep our dark side in check, by always reasoning with it, by always keeping up with the expectations of Society and by even trying to remember the words and commandments of God. And our dark side seems to always be at its strongest against our holy side whenever we have been done wrong, or whenever we are down to our last dime, or whenever a great injustice has pushed us into a corner and we are facing losing all we have worked so hard for. And since all beings share one thing in common, Its Own Survival, then as I said above, we are all just one act away from becoming Criminals ourselves. And so this is partly why we are always interested so much in those that have taken that final step, and even more so in those who have become so famous for their illegal acts. But we also love a good gossip, we love when we are witnessing just how far someone else 's dark side is willing to go. And since deep down inside we are all wicked, we love to challenge the legal laws - the moral laws - the Holy laws - the criminal laws along with the ethical laws. So with all that said, this is why today I am sharing with You how 6 Famous Criminals Came To Be And How Their End Came To Be:
Credit:
Huffington Post
If there's one thing that's true about America, it's that we love a good chase -- so long as the really, really bad guy gets caught. Whether the chase ends in a long stay in jail or a storm of bullets, these cases prove that the law always gets their man. Or woman, as the case may be.
1. Bonnie & Clyde Barrow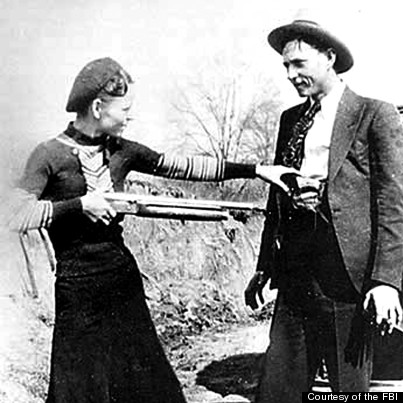 Bonnie and Clyde display poor gun safety
The Crime:


It all began with a stolen car.
Yes, the crime that brought Bonnie and Clyde Barrow -- storied lovebirds and hardened outlaws -- to the attention of the then-Bureau of Investigation was not murder, robbery, or extortion.
It was the humble charge of transporting a stolen Ford across state lines.
By the time they were finished, of course, the couple was suspected in 13 counts of murder, as well as numerous burglaries, bank heists, car thefts, jail breaks, and kidnappings.
The Chase: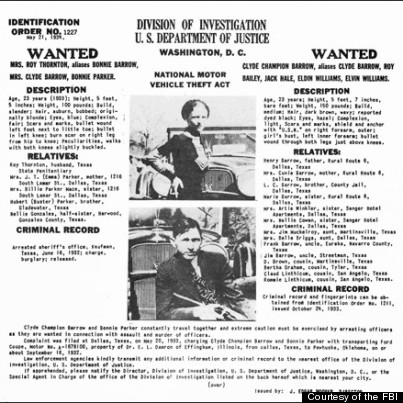 The Bureau of Investigation's wanted poster
The FBI issued a warrant for the arrest of the pair in May of 1933, but the chase dragged on for an entire year, eventually spanning a wide swath of the southern Midwest. It ended, for the rabid young lovers, in a hail of bullets.
Bonnie, it appears, liked bad boys. She met Clyde Barrow at age 19 while married toanother convicted murderer. The two bonded quickly over a shared passion for crime -- she smuggled him the gun that he used to escape from prison. From there, the spree began in earnest. They gathered a gang of kindred souls -- Barrow's brother and his wife, as well as a revolving door of violent young men -- and crisscrossed the countryside of Texas, Louisiana, Oklahoma and Missouri, committing brazen crimes along the way. (At one point, they even mounted a full-on assault of a prison, breaking out an incarcerated comrade.)
All this despite the furious efforts of law enforcement, who blanketed the countryside with wanted posters for the pair. Police showed little hesitation in using deadly force. Bonnie and Clyde managed to survive several armed ambushes set by police; their gang was not always so lucky.
Finally, their luck ran out. In the spring of 1934, the Bureau received information that the couple would travel to a remote part of Louisiana. The Feds, along with Texas and Louisiana troopers, saw their chance. As Bonnie and Clyde tried to speed through their ambush, police opened fire.
The Aftermath: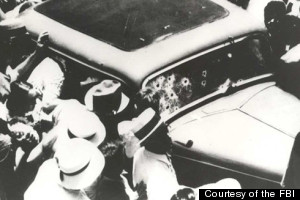 A crowd examines bullet holes in the couples' car
Both were killed instantly, but their memory lives on, perpetuated in media. Every year, a festival is held near the spot of their fatal ambush to commemorate their lives.
2. August Robles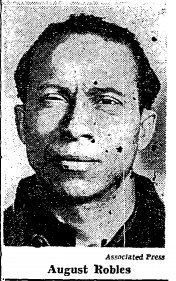 The "squint-eyed" Robles usually wore glasses
The Crime:


It's been called the biggest manhunt in New York City history (a city with a lot of crime), so we can probably forgive contemporary reporters for writing it up like an Elmore Leonard novel. The Associated Press article from February 21, 1955, the day after the massive gun battle between Robles and police, called the suspected hitman a "little," "squint-eyed" "sworn enemy of the law."
The police sought Robles, a known mob associate, for the murder of Joseph Aronowitz, a witness who had been scheduled to testify in a Baltimore robbery trial. When three detectives approached Robles, he rushed them, snatching one officer's revolver. At gunpoint, he forced the other two officers to give up their weapons.
The Chase:


After an exchange of gunfire and three fruitless days of searches of subways and theaters, police received a tip that Robles was holed up in an East Harlem apartment. Twelve officers surrounded the exits. A group of detectives, veterans of earlier skirmishes with Robles, went to the door. Three received bullet wounds for their troubles.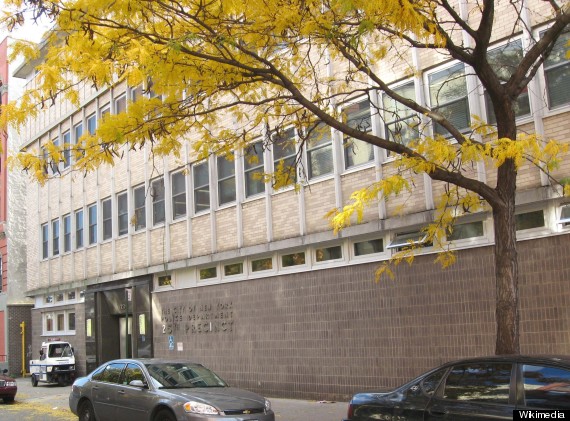 New York's 25th Precinct emptied to deal with Robles
In response, police called up 200 officers and a squad of firemen to Robles' 112th Street hideout. They were heavily armed with submachine guns and tear gas. Thousands of bystanders ("hundreds of thousands," according to the AP) lined the roofs around the hideout, eager for a glimpse of the fight.
They weren't disappointed.
For about an hour and a half that afternoon, Robles and police exchanged volleys of gunfire. At one point, tear gas bombs ignited a blaze in the building. Firefighters struggled to control it. The wily Robles twice attempted to stall -- by calling in a priest -- but his time had run out.
The Aftermath:


True to an earlier vow, Robles didn't come out alive. Officers found him lying in his undershirt in the bedroom of the apartment, dead from several gunshot wounds.
3. Billie Austin Bryant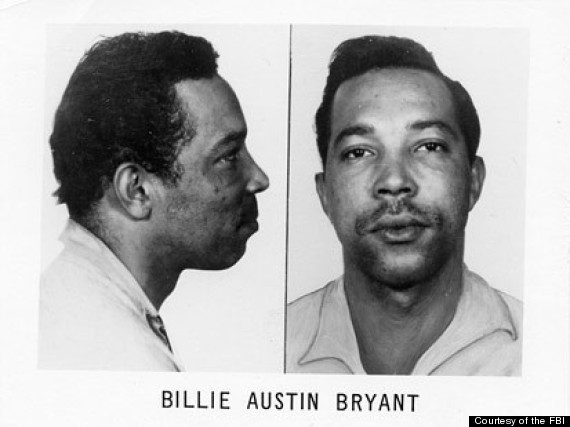 Not-quite genius criminal Billie Austin Bryant
The Crime:


Not everyone can be great at their jobs -- including criminals. Witness Billie Austin Bryant, a bank robber and murderer who holds the dubious distinction of being the criminal with the shortest time ever on the FBI's Top Ten Most Wanted List. Yes, mastermind Billie Austin Bryant lasted an entire two hours before the FBI nabbed him.
No one can say he lacked a flair for the dramatic, though.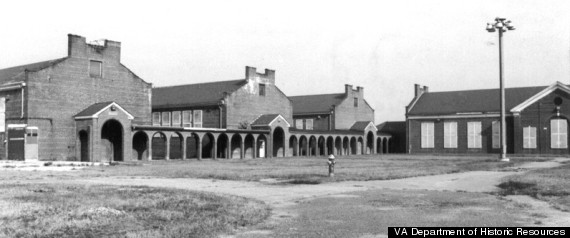 Lorton Correctional Facility, Bryant's temporary home
In 1968, Bryant -- then a few months into a minimum 18-year sentence for armed robbery -- stole a car from his Virginia prison's auto shop and drove it straight through a chain-linked fence to (fleeting) freedom. He resurfaced in early 1969, driving an eye-popping maroon Cadillac and robbing a Maryland bank -- where he was previously a regular customer.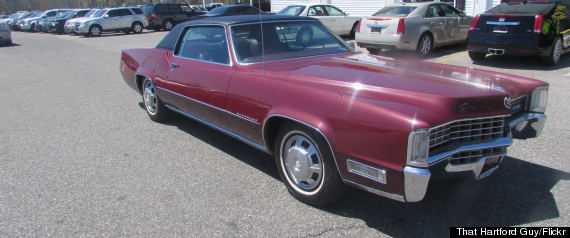 Bryant drove a Maroon Cadillac to his 1969 bank robbery, turning heads
The Chase:


The robbery drew the attention of the FBI, who sent three agents to Bryant's wife's apartment to question her. The agents unknowingly passed Mrs. Bryant on the apartment stairs, but ran into Billie at the door. He immediately opened fire, killing two of the agents. Reinforcements swarmed the apartment, but Billie escaped by climbing down a tree in back.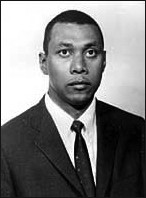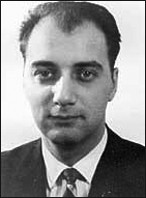 FBI Agents Edwin R. Woodriffe and Anthony Palmisano were killed by Bryant
His freedom was short-lived. After the FBI added Billie to their Most Wanted List, a neighbor alerted authorities that he had heard strange noises coming from his attic. The FBI found Billie there, lamenting that the door was stuck.
The Aftermath:


Bryant was convicted of two counts of first degree murder for the deaths of the FBI agents, and sentenced to two life sentences -- to be served after the completion of his earlier sentence for robbery.
He was punished again for smuggling in how-to texts on demolitions, allegedly to be used in prison breaks.
4. The Unabomber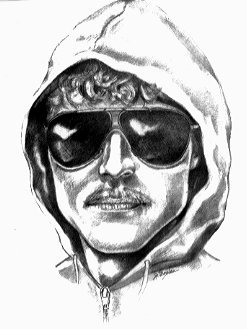 Infamous police sketch of the Unabomber
The Crime:


Perhaps no crimes have stumped authorities as much as those of Ted Kaczynski, better known as the Unabomber. Complicated by his reclusiveness and the use of commonplace components in his bombs, the search for Kaczynski remains one of the largest and costliest in America's history.
The numbers may not capture the fear that the former Berkeley mathematics professor inspired. In 17 years, he killed 3 and injured 23 with 16 bombs. But the vision of the hooded man loomed large in public consciousness, aided by the Unabomber's targeting of a collection of inoffensive academics and airline employees through the (sort of) trusted United States Post Office.
And it could have been much, much worse. A bomb that Kaczynski planted on an American Airlines Boeing 747 failed to fully detonate -- although a dozen passengers were treated for smoke inhalation.
The Chase: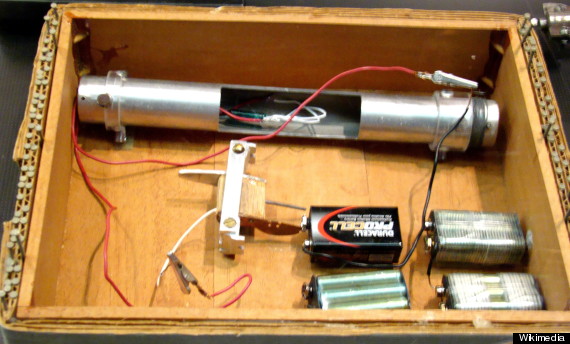 A Unabomber pipe bomb shows use of everyday, fungible items
Despite 17 years on the case, a dedicated team of specialists and the creation of a database that held a million suspects, including Kaczynski himself, law enforcement in the 1990s was frustrated. Although they rightly suspected a white male with a grudge was behind the trail of violence, they had focused on someone in their 20s. (They couldn't have known that Kaczynski had attended Harvard at age 16.)
The case finally broke in 1995, when the FBI, after internal debate, convinced the Washington Post to publish Kaczynski's sprawling anti-technology manifesto. Stakeouts of the newsstands in San Francisco that sold the paper -- the city was suspected to be the bomber's home base -- only turned up a disheveled writer who had already been vetted. But the manifesto's style caught the eye of David Kaczynski, Ted's brother, and his wife. They alerted the FBI, who found some 150 similarities in style -- enough, at least, to order surveillance.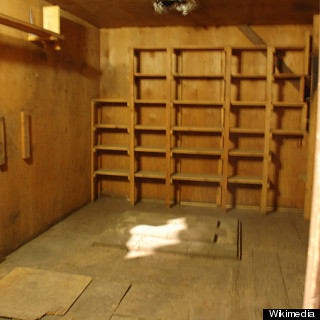 Inside the Unabomber's Montana cabin, a window to Kaczynski's survivalist life
A small team of FBI staked out Kaczynski's Montana cabin. They rented unassuming trucks, talked to neighbors and checked records of the Unabomber's movements to see if they matched times and places from which bombs were mailed. They did. On a snowy April morning, 100 SWAT officers, lead FBI agents on the case and a park ranger who knew Kaczynski approached cautiously. He surrendered without a fight -- a good thing, since the cabin was full of explosives.
The Sentence:


Kaczynski pleaded guilty to three counts of murder. As part of a plea agreement, he currently serves eight life sentences, back to back, without the possibility of parole. Unrepentant, he has bragged about his sentence in Harvard alumni literature.
5. The DC Sniper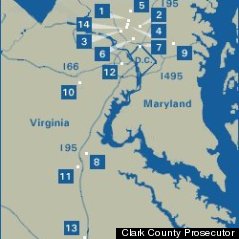 The sniper shot at 13 across Maryland, the District of Columbia, and Virginia
The Crime:


For an agonizing 23 days in October of 2002, a specter stalked the area around Washington, DC. Men and women were gunned down from long range while carrying out the everyday business of life: shopping for groceries, getting gas, mowing the lawn. The elusive killer taunted police, leaving messages in the form of tarot cards at the scene. The cards chillingly read: "Call Me God."
The snipers killed 10 and wounded 3 in the murderous spree, but their crimes stretched back farther than anyone imagined.
The Chase: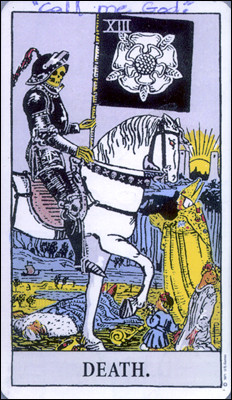 Tarot card left at a crime scene reads "Call Me God"
At the start of the case, Maryland police -- backed up by the FBI and other state agencies -- had frustratingly little to work with. The victims were unconnected. The sniper removed shell casings and other evidence from the scene, and most early victims succumbed to the devastating .223-calibre ammunition, leaving few witnesses. The search focused (mistakenly, as it turned out) on a white van seen speeding away from a crime scene.
In addition to local and state forces, the FBI mobilized 400 agents to work on the case. A tip line they set up revealed a promising lead: a man claiming to be the sniper called and said that he had robbed a Mobile, Alabama liquor store the previous month. Evidence had been left at that scene. Fingerprints on a shell-casing matched to 17-year old Boyd Lee Malvo and a mysterious, military-trained, father figure in his life -- John Allen Muhammad.
More importantly, it turned up a blue 1990 Chevy Caprice that the pair had recently bought in New Jersey.
That car, still sporting Jersey plates, was spotted at a rest stop in Maryland. Authorities swarmed the area and even blocked off the exit with commandeered tractor trailers. The suspects were arrested without conflict. Inside the Caprice, investigators found a Bushmaster .223-calibre rifle, a bipod and a hole bored in the trunk.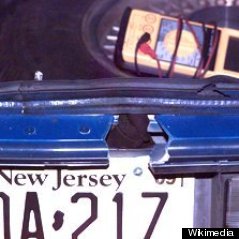 The perfect nest for sniping
The Aftermath:


A Virginia jury convicted John Allen Muhammad on a count of first degree murder, and sentenced him to death. (He was also convicted on six counts of murder in Maryland.) At his appeal, Malvo, exempt from the death penalty due to his youth, testified against him. Muhammad was executed in 2009.
Malvo was convicted on several counts of killing and received life without parole.
6. The Boston Bombing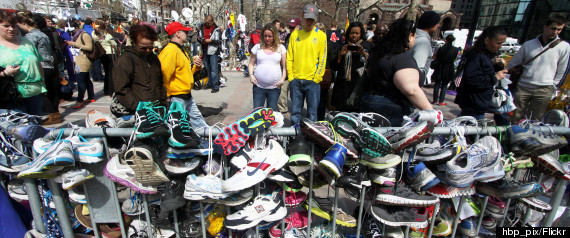 Mourners leave running shoes at the site of the Boston Bombing
The Crime:


On Monday, April 15th, 2013, two explosions ripped through crowds near the finish line of the Boston Marathon, shattering the peace of the normally festive day. The blasts were so powerful that they propelled bomb parts -- a pressure cooker filled with BBs and nails -- onto nearby rooftops. Three bystanders lost their lives. Another 267 were wounded, with many suffering grievous injuries requiring amputations.
One more would be killed and another seriously injured in gun battles before Tamerlan and Dzhokhar Tsarnaev were brought to justice.
The Chase:


For 102 hours, the nation held its breath. Immediately after the bombing, hundreds of federal, state and local investigators combed through the crime scene, an enormous 15-block stretch of Boston, and gathered surveillance video from neighboring businesses. Two individuals stood out in grainy footage: a pair of men in hats and sunglasses who dropped backpacks at the scene. Despite the chaos of the day, the men barely reacted. The FBI appealed to the public for help in locating the men, who turned out to be brothers and naturalized citizens originally from the Chechen republic.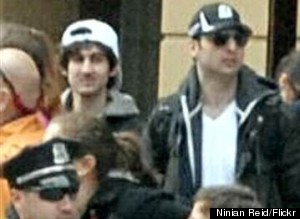 Stills from video surveillance show the Tsarnaevs mingling amongst the Marathon crowd
Seemingly unafraid of the massive manhunt, the Tsarnaevs stuck close to home. The younger brother, Dzhokhar, worked out, shopped at Whole Foods and took to Twitter. After the FBI announcement, though, they began to feel the heat. On April 18, the brothers drove to MIT and, possibly seeking more weaponry, shot a security guard five times, killing him. (They couldn't get his gun out of its holster, though.) In what would turn out to be their undoing, they then carjacked a entrepreneur in Watertown, Mass., forcing him to drive at gunpoint. The hostage escaped at a gas station and notified authorities, who quickly gave chase.
For four long minutes, police and the brothers exchanged gunfire in the streets; the brothers tossed homemade bombs from the window of the car. The exchange ended with the elder brother dead, allegedly run over by Dzhokhar, a police officer seriously wounded and a wounded Dzhokhar on the loose. Thousands of law enforcement officials descended on Watertown and performed a street by street, house by house search of the eerily quiet suburb.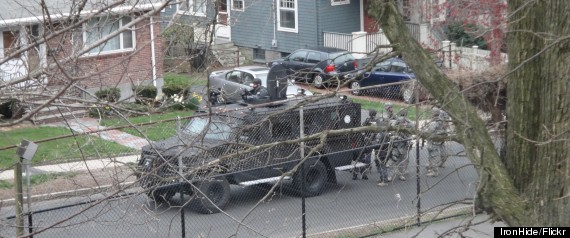 Police and National Guard search quiet Watertown neighborhoods
Finally, on the night of April 20, a homeowner noticed a pool of blood inside the boat he kept in his backyard. Hundreds of police swarmed the scene. The injured Dzhokhar was brought in, bleeding and seriously wounded, without a fight.
The Aftermath:


Tamerlan Tsarnaev died in a Massachusetts hospital from injuries sustained in his gun-and-explosive battle with police.
Federal prosecutors charged Dzhokhar Tsarnaev with using weapons of mass destruction, which can carry the death penalty. The trial has been delayed due to challenges to the venue and difficulties with jury selection. He also faces charges for the assassination of MIT security guard Sean Collier.
Tags: Police Crime Boston Marathon Bombing Manhunt NY Crime Investigation Fugitives Gun Violence Dirty Harry FBI Showdown True Crime Bonnie and Clyde Detectives Police Chase Masterminds Fugitive Dc Sniper