FaceBook is the New Darling of the entire world, as it has created for itself the stigma of being the biggest social network to have ever come along, to allow all families and all people of the world to stay connected. And in the process, has made hundreds of billions of dollars in sales revenues, then gone on to become a major player in the Stock Markets of the world. Also facebook has been an integral part in allowing the little people of the world with no political voices, to gather in numbers and bring out political changes, as well the dismantlement of great dictatorship powers in Egypt, in Libya, in Yemen along with other countries. So with all that said, you would think that facebook is a place Online where all good things come about, but nothing could be further from the truth. For that is the place where murders take place, and those murders directly involve you, your sons and daughters. Also facebook is a place where people lose their jobs where they have been for years, or little children gets bullied to death, or great heavy ugly fights get started, or people who are married get to meet other people and break their long vows.
HERE... SEE FOR YOURSELF: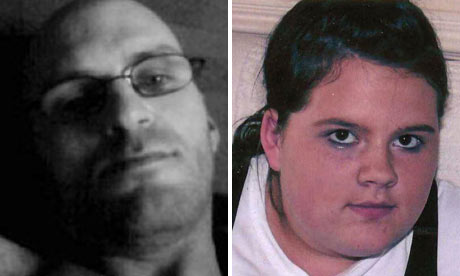 1. Facebook killer sentenced to life for teenager's murder
Sex offender Peter Chapman was today sentenced to life imprisonment after he admitted kidnapping, raping and murdering a teenage student he had ensnared using a fake Facebook profile. Chapman, 33, of no fixed address, changed his plea as he was due to face trial at Teesside crown court for the killing of Ashleigh Hall, a 17-year-old student.
He was told by Judge Peter Fox QC that he must serve a minimum of 35 years before he could be considered for release.
Ashleigh's body was found dumped in a field near Sedgefield, County Durham, in October. The teenager, from Darlington, had been strangled.
Chapman also pleaded guilty to failing to notify police of a change of address, as required by the sex offenders register.
Graham Reeds QC, prosecuting, said Chapman had used the fake identity of a teenage boy to entice Ashleigh into meeting him.
SOURCE: http://www.guardian.co.uk/uk/2010/mar/08/peter-chapman-facebook-killer
2. Mom accused of assaulting boy says he made nasty Facebook comments about daughter
12:38 p.m. EST, May 31, 2012|The Associated Press
ST. PETERSBURG, Florida ― A 46-year-old mother who was charged with assaulting a 14-year-old boy at a mall says she was angry that the boy wrote nasty comments about her daughter on Facebook .
Debbie Piscitella and her 14-year-old daughter were at the mall on Monday when the girl spotted the boy.
St. Petersburg Police say Piscitella put her hands around the boy's throat and confronted him.
The boy's mother initially said she didn't want to press charges but changed her mind after her son came home and she saw marks on his neck
SOURCE: http://articles.orlandosentinel.com/2012-05-31/news/os-facebook-mom-assault-florida-20120531_1_facebook-press-charges-daughter 3. "What's 10 inches and gets girls to have sex with me? My knife."
A Facebook page bearing this name was among more than half a dozen recently removed by the world's largest social networking site following weeks of outrage online and a Change.org petition that garnered more than 180,000 signatures .
Though Facebook's terms of use prohibit posting content that is "hateful," "threatening," or "incites violence," getting the social network to take down user-created pages such as "I know a silly little b--ch that needs a good slap" or "Kicking sluts in the vagina because its [sic] funny watching your foot disappear" took almost two months, thousands of people, and outspoken criticism on a multitude of social media sites. And even then, more than a dozen in the same vein remain.
The controversy sheds light on the challenges that Internet companies face when policing individuals' actions online, as well as the difficulty users have in communicating with web behemoths that control hundreds of millions of individual accounts.
While sending photos, updates and other personal information to Facebook is a seamless process for users, getting answers from the social networking site about its policies can be far more difficult. Shelby Knox, Change.org's director of organizing for women's rights, noted that weeks went by before Facebook reached out to explain why it would allow pages like "Riding my girlfriend softly so she doesn't wake up" to remain on its site.
SOURCE: http://www.huffingtonpost.com/2011/11/09/facebook-controversial-pages_n_1082870.html
4. Facebook rape suspect charged in third attack
March 16, 2011
A Far South Side man already charged in the rapes of two women he met through has been accused of sexually assaulting a third woman, prosecutors said Wednesday.
In the latest charges, prosecutors said Wayne Smith, 25, met the woman in person in October 2009 and had consensual sex with her at her Northwest Side home. The next day, Smith went to her home again, but she refused his advances, said Assistant Cook County State's Morgan Creppel
The woman, 23, allowed Smith to stay at her that night, Creppel said, but "they both agreed they were better off as friends." While she was getting ready for work the next morning, Smith again made sexual advances toward her, became angry when she refused and raped her, Creppel said.
Later that day, Smith raped another victim he met on Facebook, according to charges filed this month. The most recent attack against a third victim took place on Feb. 27, prosecutors said.
Smith was arrested in February, and his DNA profile was matched to evidence taken in the first attack from October 2009, officials said.
Smith was ordered held on a combined bond of $1.5 million.
"Third time? Something's wrong," Judge Adam Bourgeois Jr. said Wednesday
SOURCE: http://articles.chicagotribune.com/2011-03-16/news/ct-met-facebook-rapist-20110316_1_facebook-rapes-of-two-women-latest-charges
5. Man posing as Italian boy on Facebook rapes O.C. girl, police say
September 27, 2011 | 4:16pm
A 44-year-old Cathedral City man who allegedly posed as a 17-year-old Italian boy online is accused of raping an Orange County teen he met on social networking sites.
Jeffrey Thomas Sackman was arrested Friday on suspicion of a variety of sex crimes, including rape, unlawful intercourse with a minor and possession of child pornography, according to a statement from the Cathedral City police.
The victim, a 15-year-old girl from Buena Park, met Sackman online when she was 13, and the two communicated regularly on sites like Facebook, MySpace and mbuzzy, during which time she thought he was a teenager, Cathedral City police Lt. Chuck Robinson said.
In the past week, the girl told Sackman that she was having problems at home, and he offered to buy her a bus ticket to the Palm Springs area with the promise that he would help her get to her brother in Arizona, Robinson said.
Sackman took the girl to his home, where he gave her methamphetamine and sexually assaulted her repeatedly over several days, authorities
SOURCE: http://latimesblogs.latimes.com/lanow/2011/09/cathedral-city-internet-rape.html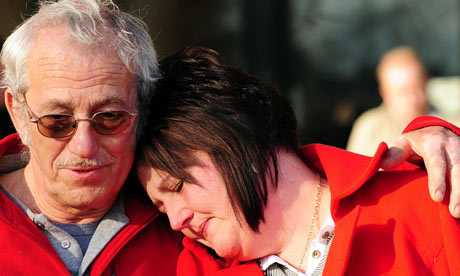 6. Facebook murderer who posed as teenager to lure victim jailed for life
Peter Chapman, who lured 17-year-old Ashleigh Hall with a fake internet profile, had history of sex offences'
Ashleigh Hall's mother Andrea is comforted by her daughter's grandfather Mike Hall outside Teesside crown court. Photograph: Owen Humphreys/PA
A serial sex offender was today sentenced to life in prison after he admitted kidnapping, raping and murdering a teenager whom he ensnared using a fake profile on Facebook.
Peter Chapman was told he must serve at least 35 years in prison by judge Peter Fox today, following the killing of Ashleigh Hall, who was 17.
The judge said he was "a very great danger to young women, and for what it is worth, I cannot foresee your release".
Sentencing him at Teesside crown court, the judge said Chapman had been the architect of "an evil scheme, very carefully brought, and with considerable detail, to trap your victim".
The killer had claimed to be a handsome teenager and used the profile to lure the teenager into meeting him after he befriended her through Facebook.
In reality, he was an emaciated, 33-year-old convicted double rapist, who was almost toothless and living in his car.
Graham Reeds QC, for the prosecution, told the court Chapman had claimed to be called DJ Pete or Pete Cartwright.
"The photograph is not of him. It is of a barechested and good-looking boy, who is apparently in his late teens."
Chapman was, in fact, "a somewhat plainer-looking man who could pass for being rather older than his 33 years. When she met him on 25 October last year, he kidnapped, raped and murdered her."
The prosecutor described how the teenager suffered from low-esteem.
The night before Ashleigh's body was found, she had told her mother she was going to stay with a friend.
In order to entice her into his car, Chapman sent her a text message saying the boy's father would pick her up. He texted her to say: "My Dad's on his way, babe."
She replied: "He's here, babe." Once in the car, he attacked her.
Ashleigh's body was found dumped in a farmer's field near Sedgefield, County Durham, in October. Her arms were bound and tape was put over her face, suffocating her to death.
Chapman was arrested by chance in a separate police inquiry after a nationwide alert went out to trace his car after he had failed to comply with the requirements of his sex offenders' registration. During initial interviews he told police they could "crush his car". He later lost his nerve and confessed to murder.
Seen on CCTV at Middlesbrough police station, he tells a custody officer: "I killed someone last night. I need to tell somebody from CID where the body is. It hasn't been reported yet."
Detective Inspector Mick Callan, head of Durham police's major crime team, said: "The truth is he is a predatory sex offender who, through the tentacles of the internet, could reach out to the young and the vulnerable.
SOURCE: http://www.guardian.co.uk/uk/2010/mar/08/peter-chapman-facebook-ashleigh-hall
7. Student Accused Of Kidnapping Girl He Met On Facebook
Tanner McCormack, 18, Faces Second-Degree Kidnapping Charge
SAN DIEGO -- An 18-year-old City College student is in custody on Monday accused of kidnapping a 14-year-old girl from Idaho who he met on Facebook.
Investigators believe Tanner McCormack drove his silver Kia SUV from San Diego to Pocatello, Idaho and on Jan. 22, kidnapped her and brought her back to San Diego.
U.S. Marshals with the Fugitive Task Force immediately sent out a release to be on the lookout for McCormack and the 14-year-old girl.
After 11 days on the run, a San Diego police officer tracked the teens down to the Friendship Hotel on Eighth Avenue in Hillcrest. McCormack was arrested and the girl – who was found safe – was taken into protective custody.
Martin Cheney, a guest at the same hotel, said he remembered seeing the teens surrounded by police outside the hotel.
"They were just quiet and sitting there," said Cheney. "They looked scared because when they looked up they were like... you know, like they got their hand caught in the cookie jar or something."
The hotel manager told 10News reporter Itica Milanes that McCormack paid for an entire week upfront and the two rarely left the room.
Source: http://www.10news.com/news/30395019/detail.html
8. Murder suspect leaves trail on Facebook before arrest
COLUMBUS, GA (WTVM) -
Mark Merritt, the man accused of brutally stabbing Michael Crowley in his Lakebottom home, is currently in jail in Florida, but Columbus police are making plans to bring him back to Georgia.
During their investigation into the brutal stabbing death of 53-year-old Michael Crowley, police say evidence shows he was murdered between 5 pm Monday evening and 7 am Tuesday morning. His body was found on the kitchen floor of his Lakebottom home Tuesday night, just a few hours after his Ford Explorer was found partially burned in Cobb County.
Police then named their primary suspect in the case, 29-year-old Mark Merritt. They tell News Leader 9 that Merritt usually stayed in the Atlanta area, but he caught a bus to Florida on Wednesday.
Merritt's Facebook page shows that just two days after police say he killed Michael Crowley, he was updating his status with quotes about God and love helping him overcome whatever obstacles are thrown his way
SOURCE: http://www.wtvm.com/story/17203926/murder-suspect-leaves-trail-on-facebook-before-arrest
9. Two Wash. officers fired over Facebook indiscretions
And Kennewick police Officer Matthew Winckler was fired from the force while he was at the police academy because of comments he posted on his blog.
"Everybody's got their right to privacy, but when there's an intermixing of images of the state patrol and state patrol cars ... with less than professional-type comments, images of drinking or conversations surrounding things that might not be moral, it doesn't present a good image for the state patrol," said state patrol Capt. Jeff DeVere.
Blahut, a Prosser High School graduate, had been temporarily based in Ellensburg while he completed the last part of his academy requirements -- eight weeks of on-the-job training with a field training trooper.
He appeared excited to be a trooper, displaying photos of himself on his Facebook page dressed in uniform and posing next to his cruiser. But he also had pictures of himself drinking out of a pitcher of beer and waiting for a ride after a night of partying.
Those actions weren't illegal, but a Kennewick father who saw his daughter looking at Blahut's Facebook page thought they were inappropriate.
SOURCE: http://www.policeone.com/police-technology/articles/1776582-Two-Wash-officers-fired-over-Facebook-indiscretions
10. Police: Man Molested Girl He Met On Facebook
School Officials Alerted CPS To Relationship, Police Say:
MUNCIE, Ind. -- A Muncie man faces additional felony child molestation charges after he had sex with a 13-year-old girl he met on Facebook, police said.
Indiana State Police launched an investigation last month after school officials in Hamilton County contacted Child Protective Services to report a sexual relationship between the girl and a then-18-year-old man.
Police said Jordan A. Donati, now 20, and the 13-year-old girl had sexual contact between May 2009 and December
SOURCE: http://www.theindychannel.com/news/27428527/detail.html
11. UK Police Fired Over 'Inappropriate' Facebook Behavior
Nearly 200 police officers in the United Kingdom have received official disciplinary action for posting inappropriate photos or comments, including racist slurs, on Facebook.
Cops used Facebook to harass former partners and colleagues, comment on others' wives and, like millions of people around the world without badges, to post inappropriate photos .
One officer with the Hampshire, England, force was fired in 2008 for posting a racist comment; another officer was fired for calling another officer a "liar" on Facebook and harassing a female colleague, the U.K. Press Association reported .
The details, obtained by the Press Association following a Freedom of Information Act request, tally formal complaints lodged against officers from 41 police forces in England and Wales from 2008 to 2010.
Along with the two sacked officers, seven voluntarily quit and 150 more faced disciplinary action for their Facebook follies; officers' other infractions include posting messages suggesting they had beaten up members of the public during protests, trying to befriend victims of crime and revealing details of police operations.
One officer, Nestor Costa, of Devon and Cornwall Police, was docked three days pay after posting a Facebook message, full of abusive language and curse words, calling for violence against a suspect in custody.
SOURCE: http://www.securitynewsdaily.com/1358-uk-police-inappropriate-facebook-behavior.html
With great Power, comes great Responsiblity... And nothing could be truer than this. So the

Facebook Owners could take actions to prevent each and every one of these situations, and the best way to do that is through Education and Awareness. But Facebook does not care about what happen to you and your loved ones, but only through the Sales on it's social network, and through it's stock value rising. So it is up to you to read articles like this, and then let others who you care about know, so you all could stay away from Facebook, but if you can't, then you could be aware of what could take place, or what Predators are looking for preys on this gigantus social network, also what murderers are planning to kill you and yours. Because nobody will care for you, nobody will protect you, and nobody will bring awareness to you, and help you to protect your rights like You Will ... Your Legal Advocate, James Dazouloute
DON'T FORGET TO SUBSCRIBE TO THIS SITE BY... EMAIL --- OR --- R.S.S

FEED --- So You Can Always Quench The Thirst That Is So Deep Inside You For Knowledge And Truth... AND SHARE THIS WITH ALL YOUR FRIENDS... DON'T BE SELFISH
DON'T FORGET TO SUPPORT US... FOR THE GREAT KNOWLEDGE WE HAVE SHARED WITH YOU... WE SUPPORT CHARITIES.
ALSO... LEAVE A COMMENT -BELOW- AND SHARE YOUR EXPERIENCE ABOUT THE SUBJECT OF THIS ARTICLE